Strong Spas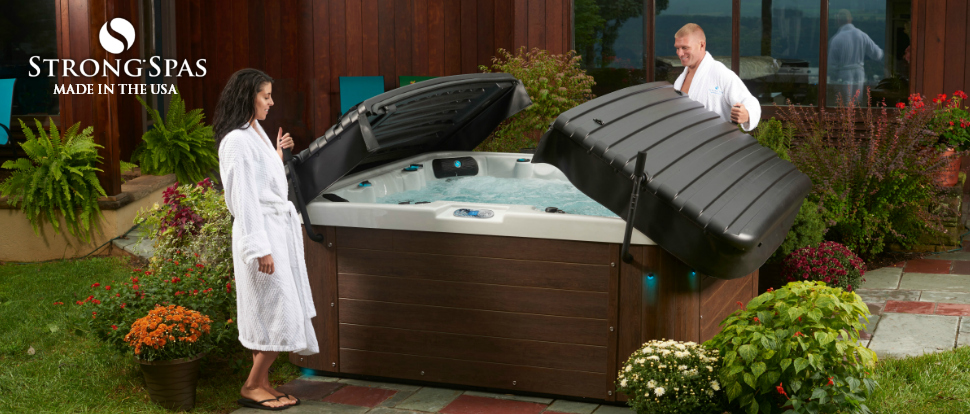 E-Z Test Pool Supplies has partnered with Strong Spas to feature them exclusively at our retail locations in Southern New Hampshire and North Reading, Massachusetts, just outside of Boston. Starting from humble beginnings in Pennsylvania, and successfully growing into one of the largest spa manufacturers in the entire world, Strong Spas is a true industry leader. Their products are crafted with luxury in mind and are custom built at one of their own facilities helping to ensure maximum quality.
Strong Spas is proud of their patented DURA-SHIELD hardcover system. This unique protective cover is molded from resin and filled with a special foam that protects the spa during harsh conditions and also retains heat, saving energy in the long run. It is also the only hardcover on the market to be backed by a lifetime warranty. Another great feature of Strong Spas is the very first integrated CoverLift system. This easy to use automatic lifting system is called ULTRASTRONG and works really well for safe and worry-free openings and closings in a flash.
The base of a Strong Spa is 10X thicker than the base of the average spa model. It is deeply insulated, contributing to maximum heat retention. The inside walls of the spa are constructed with a 3-layer shell design that really helps maintain that smooth surface and inviting look with no additional effort needed. The manufacturing process is really down to a science featuring 100 quality control checks before shipping even occurs and it is because of this that their spa products are resilient, sturdy, and durable in any conditions.
Our dedicated team would be happy to assist you in the purchasing process and explain why Strong Spas should be your brand of choice for ultimate relaxation. Take a look at the latest models below. Please click here for financing options.
Spa & Hot Tub Blog Articles
Strong Spas Product Information
Contact Us
For more information, please visit any of our 3 stores or call us (store locations and phone number).